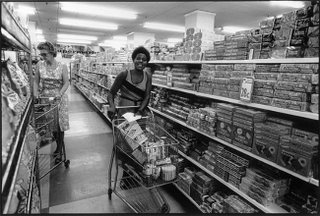 Salisbury, Zimbabwe 1983
I was born in a town called Salisbury. The town, in Rhodesia – now named Zimbabwe, was named after the Lord Salisbury the Prime Minister. Salisbury was an influential figure on the British side of the Boer war. This was a war fought in South Africa with the British against South Africans.
Salisbury in Wiltshire is a most beautiful place to visit. The Cathedral is stunning. There is so much of the history of England in Salisbury – an original copy of the Magna Carta is housed in the library.
By chance old friends of ours, Paul and Wendy Wright, had just emailed us photographs of a shop scene in Harare, the present name for Salisbury.
Our ten year old Eleven Plus children will find it difficult to look into the future. Who could have thought the changes that have taken place in Zimbabwe? All we can do is try to explain to the children that great changes will take place during their lifetimes. The changes won't all be about newer flat screen televisions and more powerful mobile phones. The better the education that we can offer the children in our care the better they will be able to cope with changes – be they peaceful or violent.
So if the children are ready for change they won't be thrown quite so easily if they are faced with an unexpected question in the Eleven Plus examination.
Salisbury, Zimbabwe today. No food. Empty shelves. Terrible change.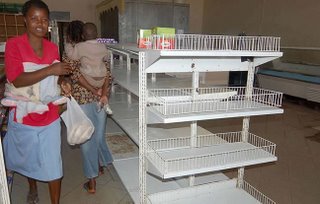 I drove to Salisbury today to teach on a course. The Travel Lodge connection was remarkably difficult to access. Hence this blog was saved until today.