We know just how important it is to keep our Eleven Plus children fit and healthy as the examinations approach.
I took this photograph on a main road – just a few miles from the proposed Olympic Stadium.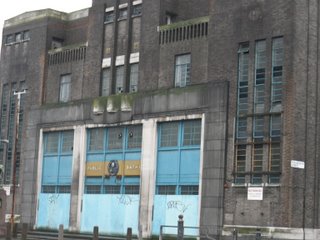 There is an Eleven Plus story about a father who offered everything to his son if he passed the Eleven Plus. The father was a demolition contractor who specialised in pulling down old buildings. A few weeks before his firm was to blow up the old building he took his family, friends and key employees into the pool. Naturally all the family were wearing safety helmets.
The assembled guests saw dozens of alligators swimming in the pool. The guests surmised that some alligators must have escaped some years ago and made their home in the old pool.
The dad turned opened his arms and told the gathering that if anyone jumped into the water they could have anything they wanted. Everyone laughed and moved on.
Suddenly they heard a loud splash and looked around. There was the much loved son swimming for his life through the water. He swam round some alligators and dived under others. It was a magnificent feat of bravery. Some would even call it foolish.
The boy's dad ran round to the other side of the pool and hauled his son out of the water. He threw his arms around his son, and said, with tears of relief running down his face: "Why? Why did you do that?"
His boy, with water steaming off his face, said: "Dad, please now can you give me the verbal reasoning answer book? I would do anything to work out the answer to Number 32 of Test 2 in Verbal Reasoning Book 1."