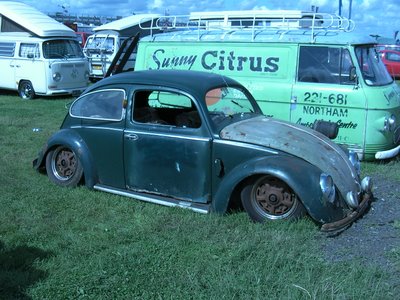 The idea of good `bug' is a broken down exterior but a `hot' set up. This picture was shot at Bug Jam 2009.
I bought my first VW when I was training to be a teacher. The first car had been a Wolsey bought by selling my racing bicycle - it was big and heavy on everything. There was no power steering in those days. The second car was a Ford Popular - because of a broken leg. It was much lighter to drive. The third car was a 58 VW. It was dark blue with bucket seats.
A feature of this car was the petrol tank. There was a little switch situated just behind the gear level that held the key to the reserve petrol tank. As a student I needed that switch over and over again.
In those day I used to play the double bass at parties and dances. A double bass fits neatly into a VW bug - but does not leave much room for passengers. Passengers were essential as they had money.
As parents give their child advice about what to do after leaving school they will probably warn them that it of little having a car as because of the cost of insurance and petrol. Parents will probably also point out that hiring the vehicle for profit will probably nullify the insurance. Some parents too will want their child to buy a car that is safe and reliable - and big enough to take a `big' musical instrument.
Posted on Sunday - as there was no link to the internet in the middle of a field at Bug Jam 2009 at Santa Pod.)