We went to watch the Tour de France today.
We took our flagpole and flags with us.
We set up in a village called Wateringbury. This is a village on the A26 between Maidstone and Tonbridge. To reach the village we walked down a little lane past Broomsdown – the family home of the Fremlins – the brewers.
The flag pole took a few minutes to set up – and the flags waved bravely in the slight breeze.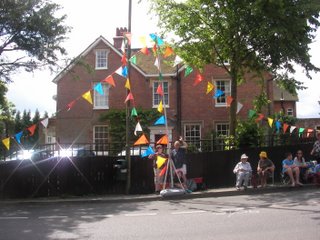 The noise and the tension built up over the morning. The cavalcade of cars carrying spare bicycles and floats depicting animals – amid sheer advertising – was noisy and entertaining.
The five cyclists in the breakaway group were about five minutes ahead of the pack. It seemed forever before the flood of cyclists burst past us. A kaleidoscope of movement. Breathtaking – well worth the wait.
If your child had passed the eleven plus what part would he or she have played in the Tour de France?
Would he or she have raised the money for the event?
The multilingual marketing manager of one of the teams?
Driven a float?
One of the thousands of policemen?
A doctor riding in a special `Doctor' car?
A famous brewer – having developed a new beer?
A cyclist?
It very hard to say isn't it? All that you can really hope for is that your child is happy and contented.