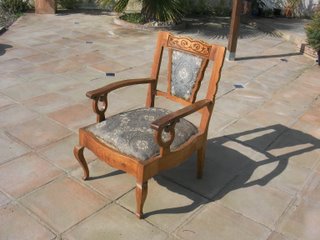 This chair has a long and distinguished history.

Back in 1943 number of Italians were declared to be the equivalent of Prisoners of War in Rhodesia (now called Zimbabwe).

The Italians were not held in prison but some were given a placement on farms. A number of prisoners with similar back grounds were banded together. My Grandparents farm, Mooifontein, near a small town called Umvuma was designated as carpentry centre.

Six Italians were billeted on the farm and lived as part of the family. This chair was made by the group of talented men. The chair was one of four in the set. It came into the possession of my son, Jonathon who has done all the work on our website.

Jonathon's daughter is Carla – who is the present face the Extra Tuition Centre. We are very proud of her – and her father!

The carpentry workshop was large. There were four large benches and an amazing collect of tools. I have a hand made wooden saw – created by the Italians.

All this took place some time before the Eleven Plus was put into general practice. I am sure that some of those talented Italians could have passed the Eleven Plus.