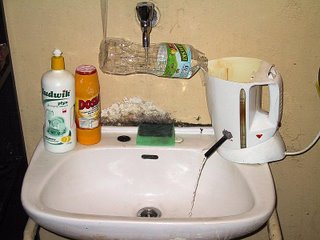 It would be so easy to change the presentation of Eleven Plus tests. Suppose that on section of a paper the children have to cope with interpretation.
Each of the following group of questions is worth 3 marks. You are expected to explain your answers.
56 What is the evidence that the tap is new?
57 Why is the spigot pouring water into the sink?
58 Is it likely that this photograph was taken in England?
59 Do you think that the kettle was turned on to make hot water?
60 Write a short account of your mother and father co-operating over a major DIY operation. You are encouraged to include the dialogue that was used when the tap DID NOT leak. This answer is worth 10 marks. Extra marks are offered for a short plan and the use of paragraphs.